At Bound Brook Chiropractic Center PA Dr. James L. Winters, we take great pride in providing the finest chiropractic wellness care to our patients. Below is a sampling of the different chiropractic services we offer in our Bound Brook office.
---
Chiropractic Care

Pain Management

PSC/ PGA Certified

Corrective Exercises
Lifestyle Advice

Nutritional Assessment

Spinal & Posture Screenings

Physiotherapy

Both Carotid Artery and Lower Extremity Arterial Ultrasound testing

Nerve conduction and EMG testing
---

Chiropractic Care
We provide advanced spinal correction utilizing "state of the art" chiropractic techniques. Never in the history of chiropractic have we been able to provide the level of help and expertise that now exists. These newer correction methods are even safer, more comfortable and more effective than ever before. As a Doctor of Chiropractic, Dr. James Winters has years of training and experience in spinal adjustment.
---
Pain Management

Provided by Dr. Brinda Kantha, MD and Dr. Didier Demesmin, MD; affiliated with our office through Total Rehabilitation & Sports Medicine LLC located in Bridgewater, NJ. Both doctors specialize in orthopedics and neurology. You can count on their experience, expertise, and compassion to deliver exceptional patient service and provide the following treatments: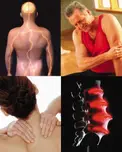 Cervical & Lumbar Epidural Injections
Facet Joint Injections
Trigger Point Injections
Nerve Root Ablation
Sacroiliac Joint Blocks
Percutaneous Discectomy
Discography
The medical doctors can be seen by appointment at:
380 Foothill Road, Bridgewater, NJ 08807
---

Orthotics and Inserts
We are extremely please to announce the availability, at our office, of expert shoe and sneaker fitting as well as corrective orthotics and inserts for all our patient's foot conditions.

---
PSC/ PGA Certified
Dr. Winters has been trained and certified by the Professional Sports Care Association to treat professional golfers on the PGA, Senior, LPGA and Nationwide golf tours. He, as well, consults with area golf courses and their local professionals providing clinics to their members concerning golf-specific exercises for both injury prevention, correction, flexibility and strength training.
Corrective Exercises

We teach our patients special "blueprint" exercises designed just for them to help strengthen and correct their own unique problem. These exercises can be performed in the comfort of your own home and can improve the effectiveness of your spinal correction by as much as 30-40%. In addition to skeletal misalignment, muscles and connective tissues can be out of place or strained by improper alignment and use. Specific exercises and stretches can help your body stay in balance and in health.
_________________________________________________________________________________________________________________
Dr. Winters has long been a strong advocate of proper diet, nutrition and exercise as well as lifetime Chiropractic wellness care. For forty years of practice this regimen and guidance has served his family of patients quite well. One of the exercise protocols, besides super-slow weight training, he has advocated and utilized both personally and in his professional life is Pilates. In fact, one of his former child patients has grown to be MISS USA Fitness and a nationally recognized Pilates instructor.
The goals of Pilates are not based on load and repetition, but instead, are focused on developing proper breathing patterns, core stability, flexibility, balance, and a more attuned mind-body connection. Pilates exercises are designed to develop strength from the inside out, and in the end, aide the body in operating as a cohesive whole. The body's innermost muscle groups encircle and support the spine, making them the most intimately involved groups in spinal stabilization. The hips, buttocks, and superficial abdominals represent the outer-layer core muscles. Joseph Pilates referred to these muscle groups as the "powerhouse" of the body through which all movement originates. Strengthening the core muscles leads to a healthier and more stable spine, and in turn, better posture and improved spinal stability. Utilizing these techniques, patients are empowered with the knowledge they need to live healthier lives.
---
Lifestyle Advice
We often find it helpful to "coach" our patients on certain activities they should avoid or do differently to avoid aggravating their particular health challenge. Our goal is to help every patient achieve a fulfilling and happy lifestyle full of the activities they enjoy most. We recognize that each of our patient is a whole person, and help them reach true health and wellness is a collaborate effort between our professionals and our patients.
---

Nutritional Assessment
We provide specific recommendations on nutritional supplements and healthy food choices to enhance our patient´s return to optimal health. Do you know which supplements and vitamins are good for you? Dr. James Winters can provide a structured nutritional program based on your individual needs.
---

Spinal & Postural Screenings
Posture and spinal screenings can reveal important health information and unlock the door to improved health and well-being. We provide screenings at area malls, community events, health fairs and places of employment. Contact us today to arrange a screening at your event or workplace.
---

Physiotherapy
To complement and enhance the healing effects of Dr. Winters's specific Chiropractic manipulative treatment, we at Bound Brook Chiropractic Center PA Dr. James L. Winters also provide the following physiological therapeutic procedures
Cold laser light therapy "LLLT": Low Level Laser Therapy "LLLT" provides a highly effective, safe method of treating a broad number of physical symptoms and conditions including head, neck, back pain, arthritis(both osteo and rheumatoid), post surgical recovery and healing, pulls, strains, muscle injuries, joint twists, sprains, carpal tunnel as well as other repetitive stress injuries, tendonitis and bursitis. We've found, as well as many other clinicians around the world, that the application of "LLLT" for headache pain, sinus conditions, heel spurs, TMJ and fibromyalgia proves highly useful. The list goes on, but the fact that Low Level Laser Therapy, "LLLT", is both safe and effective, makes it a winning combination for our patients. Teamed with proper spinal biomechanics, Chiropractic care and constructive muscular education, positive results are inevitable. Be they young, old, athletic or not, the principle of phototherapy remains the same--to promote rapid healing deep within the body's tissues.

Ultrasound
Interferential electrical muscle stimulation
Microamperage neural stimulation
Mechanical traction
Cryotherapy
Diathermy
Moist heat therapy
Paraffin bath
Work hardening rehabilitation program
Kinesio Taping